WELCOME TO COOPER & LARSEN CHARTERED Bringing Decades of Experience in Severe Personal Injury Settlements and Liability Litigation and Defense.
About Cooper & Larsen
Thank you to all our friends, colleagues and clients for this honor.   We're humbled, and more committed than ever to serving you with the highest standards of ethics, professionalism and effectiveness.
Personal injury cases involving catastrophic, life changing injuries or wrongful death require in-depth knowledge and experience to settle properly.   The long term nature of these settlements require in-depth negotiations and a long range view.
Gary Cooper and Reed Larsen are among the most experienced and effective personal injury lawyers in Idaho when it comes to crafting secure, effective lifetime settlements for people and families who've suffered truly catastrophic injuries or a wrongful death.
If you need a lifetime settlement following a life changing injury or wrongful death, you need attorneys who understand the special, complex nature of these cases.  And in Eastern Idaho, there are none better in this space, than Cooper & Larsen.
Cooper &  Larsen is the only firm in Eastern Idaho with two living members in the American College of Trial Lawyers.   The ACTL is a very exclusive, invitation-only organization where candidates are vetted carefully by lawyers and judges who've worked on their cases, to ensure that members admitted are among the most competent, qualified and ethical in the industry.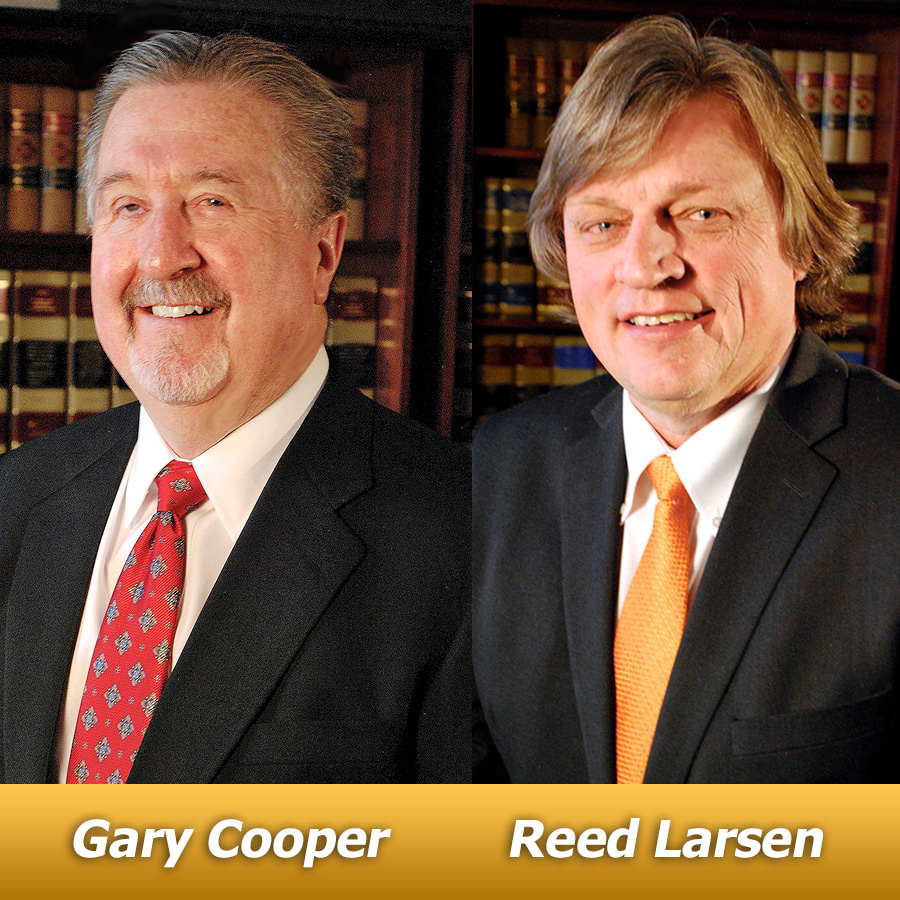 After building distinguished careers as associates and partners in other law firms, Idaho natives Gary L. Cooper and Reed W. Larsen formed Cooper & Larsen in 1998 to create a litigation-oriented law firm providing high quality legal services in a cost efficient manner.
The firm has grown from the original partnership to offering the expert services of 6 full time attorneys, and a highly competent, professional staff of paralegals and support personnel.
 We are headquartered on the second floor of the 151 Professional Building in Pocatello, Idaho, maintaining a large suite of sophisticated yet comfortable offices and work areas.
Cooper & Larsen has won 100's of settlements and millions of dollars for clients seeking representation in personal injury, workplace injury and product liability cases.
 The firm has an "AV" rating from Martindale-Hubbell and is listed in Best's Directory of Recommended Insurance Attorneys and Adjusters.
---
HOW CAN WE HELP YOU?
Fill out the form below for a free and confidential initial consultation.
Our primary practice areas include:
Catastrophic Personal Injury Settlements
Life Changing Personal Injury Settlements
Wrongful Death Personal Injury Settlements

Auto & Truck Accident Personal Injury Settlements

Federal Employer Liability Act

Civil Litigation

Appeals
Commercial Litigation

Insurance Policy Interpretation

Product Liability
We provide litigation defense services on a regular basis for major corporate and individual clients, including many large insurers.  We represent insurance firms like:
Farmers Insurance Company
Farmers Insurance Exchange
Mid-Century Insurance Company
21st Century Insurance Company
National General Insurance Company
and many more.  See full list here.
We provide business legal services and representation to many other companies, including Bingham Memorial Hospital, Idaho Hand Institute, Grace Lutheran Church & School, Spudnik Equipment Company, Ford's Electric and others. See full list here.
Cooper & Larsen is licensed to practice in the States of Idaho, Utah and Wyoming. Our principal office is located in Pocatello, Idaho. The information provided in this web page is offered for informational purposes only; it is not offered as and does not constitute legal advice. Cooper & Larsen does not seek to represent you based upon your visit or review of this web page site. This web page site may be considered advertising under the rules of Idaho. You should not make legal hiring decisions based upon brochures, advertising or other promotional materials.
MEET OUR ATTORNEYS
REQUEST A FREE CONSULTATION
Fill out the form below to receive a free and confidential initial consultation.